Total Image
Smelly No More Roll On Deodorant
Suitable for all skin types, the Smelly-No-More crystal roll-on deodorant will leave you feeling fresh in the hot, humid Malaysian weather. The all-natural deodorant is great for sensitive skin. Made according to a proprietary process with natural mineral salts consisting of high purity content, our natural deodorant directly eliminates the culprit that causes body odour, which is the bacteria that reacts with our sweat to form the pungent smell.

The Smelly-No-More crystal deodorant controls and targets embarrassing body odour without clogging up your pores. Use the crystal stone natural deodorant on your underarm area, behind the knees, on the neck or feet, and experience the effectiveness for yourself.

• Lasts up to 3-6 months
• Pure & Natural Mineral Salt
• Contain No Aluminum Chlorohydrate
• Alcohol & Fragrance-Free; highly recommended for sensitive skin
• Hypoallergenic, suitable for all skin types

How To Use
1. Wet the top surface of the Smelly-No-More crystal stone with water
2. Apply to clean dry skin

1. Unless stated otherwise, all deliveries will be carried out via courier companies appointed by Total Image Regional (M) Sdn Bhd only. Please do not use a P.O. Box address for delivery.
2. All deliveries are within Malaysia only and will be free of charge with any purchase.
3. It is customer's obligation to ensure the accuracy of the delivery address details entered at the time of ordering. Should an invalid or wrong address be keyed in by the customer, Total Image Regional (M) Sdn Bhd is not obliged to re-deliver the order(s) to the correct address at the said company's expense.
4. Total Image Regional (M) Sdn Bhd is responsible for only ONE time delivery charge for purchase orders.
5. The average lead time for delivery is 3-5 working days from the stated shipping date. Total Image Regional (M) Sdn Bhd will align with its courier partners to work their best to deliver the orders by the average delivery time. However, Total Image Regional (M) Sdn Bhd is not liable for any damages, lost or overdue deliveries caused by 3rd party courier partners.
6. Total Image Regional (M) Sdn Bhd reserve the rights to amend the Shipping & Delivery terms & conditions without prior notice.
Customer Reviews
I recommend this product
clean, refreshing, comfortable
it make my whole day , i feel refreshing compare to other fragrance deodorant
I recommend this product
No irritation and discomfort. Feels good.
Satisfied with the product. 1st time trying the new innovative deodorant instead the conventional deodorant. No sticky and no discomforted.
I recommend this product
Good and affordable. Like it so much
Sesuai dipakai untuk semua golongan. Tiada bau pada badan dan tiada kesan pada baju
I recommend this product
Tidak melekit & berbau serta mudah menggunakannya.
Memang sangat berkesan bagi saya & saya suka Smelly No More ni sebab ianya bebas bahan kimia, tak ada bau, bebas alkohol dan hypo-allergenic. Tak jadi gatal gatal bila pakai. Dan tambah best sebab ianya tak melekit dan tak lekat kesan kat baju.
I recommend this product
Smelly No More Tahan lama, sangat berkesan
Smelly No More Sangat berpuas hati, saya sejenis yang kuat berpeluh dapat mengurangkan bau badan lebih lama, saya sangat mengesyorkan produk ini untuk semua. Produk ini tidak meninggalkan kesan sampingan apa-apa, sesuai untuk semua jenis kulit, saya juga sejenis kulit sensitif, mudah gatal jika salah produk, tapi sesuai menggunakan smelly no more.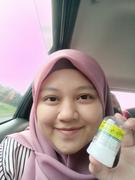 Beauty & Slimming products You may also like